Joseph Parrish | President
A twenty-year veteran of the sign industry, Joseph has worked on a wide range of projects, from small apartment complex remodels to $10 billion dollar casino projects. During his career, he has had the benefit of heading numerous departments at several well-established companies, and his duties have included project management, operations, general management, and account management. Proud to be a sign professional and tradesman, he is constantly seeking the next problem in need of a creative solution, and enjoys challenging both himself and his team in the process.
He's extremely proud of what his team has built at Sign Post Studio, and is enjoys operating the company based on the shared core values, excitement, and care for which his clients have always known him.
Andy Kelinske | Design Director
Andy is our Design Director, and has thirteen years of industry experience. His passion for art and creativity, stemming from childhood, drove him to obtain a Bachelors in Visual Communications. An Oceanside native, he is deeply rooted in the beach culture and embraces the dynamic San Diego lifestyle, with a love for surfing, music, and exploring the local craft breweries. At work, Andy takes pride in connecting with our clients and collaborating with them to produce a product that exceeds their expectations.
He is always looking for his 'next favorite' project—one that allows him freedom to harness his creative skill set and come up with a unique and fresh branding identity, from the ground up.
Bryan Wilson | Operations Director
Bryan is our Operations Director, and has more than eleven years of experience in the sign industry. He earned his degree in Graphic Design from the Art Institute, and quickly landed a job in the printing department at Wolfpack Sign Group—where he first met Joseph Parrish. Although he emphasized large format printing in his earlier years, he has worked hard to branch out in his career, and has been an integral part in several shops across San Diego. Now he is working with Joseph Parrish again, and is proud to be bringing Sign Post Studio to life.
When he's not producing design packages for some of the most well-known multi-family housing clients around, he likes to spend his time at home with his fiancee, Alexa, and dogs Crash and Lloyd, or at the local comic book shop playing Magic the Gathering—a game he's spent over four years courting. You can often find him "slinging cardboard" on Friday nights, and at more competitive events at various card shops all over San Diego County on the weekends.
Chelsea Nash | Marketing and Project Assistant
Chelsea leads our marketing and communication efforts! She has already completed her associate degree and is currently working towards her bachelor's degree in Integrated Marketing Communication. She loves that she now gets to represent a company she is proud to be a part of, as well as getting an inside look at the processes behind making the signs we see every day. When she isn't working on Sign Post Studio's marketing images or assisting with the shop's projects, Chelsea can always be found at the barn riding one of her two horses, Indie and Angel. Chelsea's ability to communicate the growth and progress of Sign Post Studio is only exceeded by her passion in doing the same for her horses (remember to follow @Indie.And.Angel)!
Rene Chavez | Lead Fabricator
Rene, our Lead Fabricator, has worked in painting, assembling, and installing. A building industry veteran, Rene spent 16 years welding and erecting some of the larger buildings you'll find doing the "high-steel"! He got into the sign industry because he gets to learn new things every day and have fun at the same time, each day a different challenge. His biggest rewards are seeing the customer happy with something that he helped to create. When Rene isn't at the shop, he enjoys spending time with family and friends, which usually means building something for them as well! His cooking is quickly becoming stuff of legend at Sign Post, to everyone's enjoyment.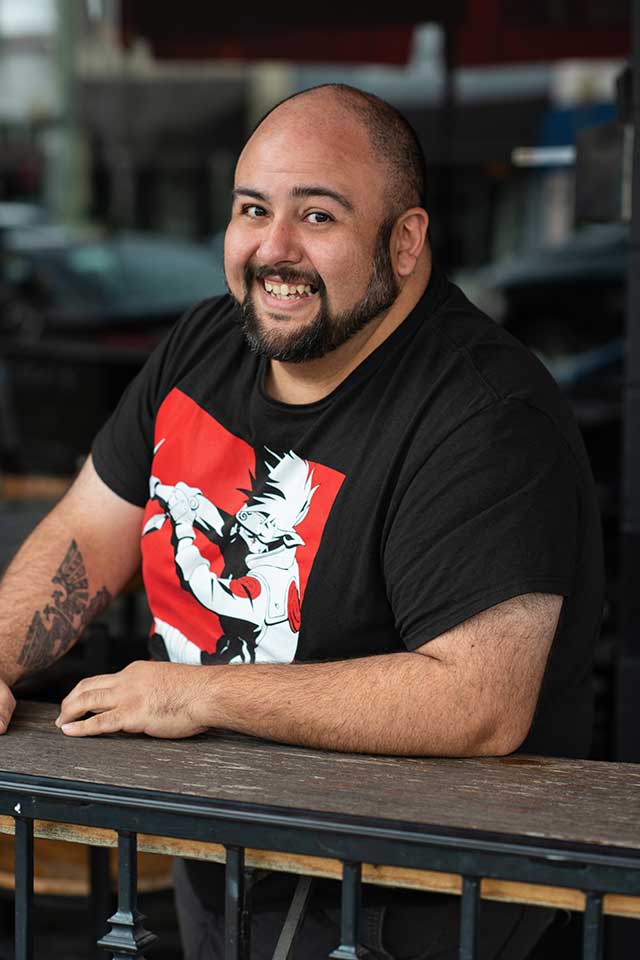 Carlos Mendoza | CNC Machinist
Although Carlos' technical job title is CNC Machinist, he is truly the jack of all trades. He has experience with printing, vinyl layup, ADA, vehicle graphics, and even doing installation. He has been in the industry since 2006, when his good friend Bryan Wilson offered him an entry-level position, and he hasn't looked back. Carlos is always ready to learn, and thrives on passing his knowledge on to others. He is always positive, and loves that he can make everyone in the shop laugh, but one of his favorite things about his position is that he gets to be creative every day. When Carlos isn't working here at Sign Post Studio, he can be found road cycling, mountain biking, or painting Warhammer 40K figurines.
Kyle Chauvin | CNC Operator
Kyle, our CNC Operator, has five years of machining experience. He transitioned into the sign industry because he enjoys being able to create high-quality signs. He loves the fact he gets to do something different every day, and gets a sense of pride from the work he does. Kyle loves all types of music and art, which makes him a great fit for this creative industry. He enjoys traveling and the outdoors, and can usually be found kayaking, hiking, and spending time with his dog Sven. He has said if he could travel anywhere in the world, it would be to the Great Barrier Reef.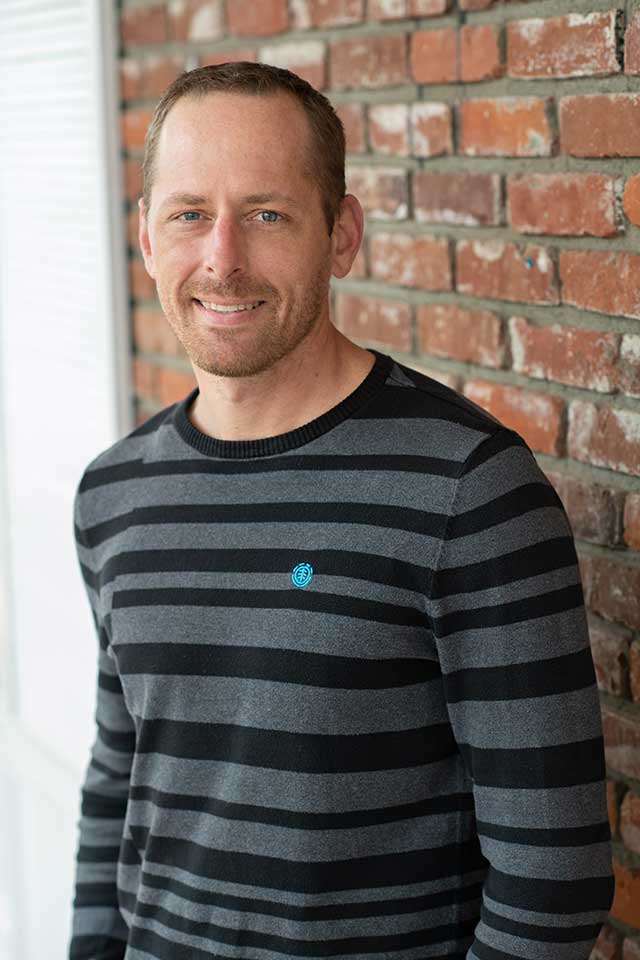 Daniel Baker | Production File Engineer
Daniel, our Production File Engineer, has experience with CNC machining, fabrication, design, engineering, and installation. A ten year car sales veteran, Daniel realized that he needed to find a more balanced career that would allow him the time to enjoy the life he was working so hard to build, and moved into the sign industry. A constant perfectionist, the Sign Industry has given him the creative outlet he was searching for. He hasn't regretted it for an instant. The things he loves most about his job is getting to work with technology and practice true craftsmanship. When Daniel isn't engineering production files, he is often out boating, spending time with family, or crafting other cool things. Being the resident shop perfectionist, the saying goes "Practice makes Baker".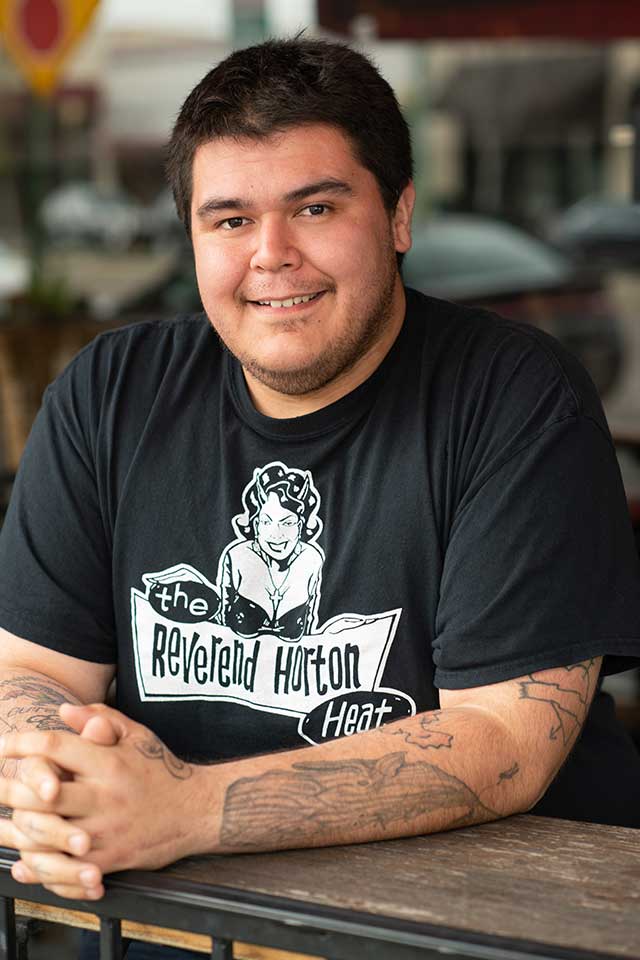 One of the newest members of Sign Post Studio, and to the industry. He decided to get into the sign industry because he wanted to develop a trade and be proud of the work he was doing. What Vic loves about his job is that every day is different and offers an opportunity to learn different aspects of the craft. He also loves that his co-workers have welcomed him with open arms, and make coming to work easy. Something that Vic prides himself on is the fact that he can make light of any situation. In his free time, he likes to go on new adventures with his wife, Randie. They enjoy going to different museums and theme parks. He also likes reading and playing Magic the Gathering, and freely admits that he is a movie and trivia nerd.